Personal Information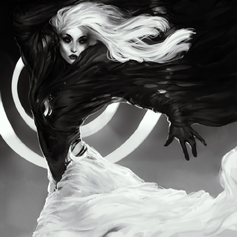 Hello, I am Black Bullet235, also known as Sarah/Reina. I've been here officially for two years now, and so far I have created up to 30+ (28 currently published now) characters here in Creepypasta Files Wiki. In the beginning, I only joined this wiki to publish The Sorceress, and leave the wiki. However, after I published Kitsune, and received some recognition with success, I decided to stay. The fact that most people in this wiki respect and knows me makes me happy. I am also flattered I was a Helper for a short period of time (Given by Evita). With my creations, I hope people would be inspired to create their own and improve their characters. I enjoy seeing people improve their characters, and I love that people enjoy my creations. So far, I am in high school, I live in the US where the "Black Forest" is located at. I was born on July 19. I am a teenage female, who has advanced talent in writing, and research. I've been professionally writing for more than five years, and I hope to become a successful author or a successful psychiatrist when I am older. I take pride in all my creations, especially towards, Bachelor, Kitsune, Operator, and Victim. I hope, one day my creations would be share around the world, and they will be part of the new generation of Creepypastas, that people can read for enjoyment. Thank you for your time. ~ BB
You can contact me here in the Wiki message wall, on Discord (Username: Black Bullet235#9284), Instagram (Username: sarah.mariposax), and Wattpad (Username: RosePandora235). You can contact me for any reason, and any time. I am with open arms, and I am eager to help anyone in need. I also accept requests for editing characters. Check Hodeskalle, The Doll Queen, Stitches, and Ace for my collaboration with other users on this wiki. [FOR NOW, I WILL NOT ACCEPT REQUESTS TO HELP.] Until then, have a nice day.
Fun Facts!
My real name is Sarah, however, I go by Black Bullet, BB, or Bullet as to "separate" myself from my real life and Creepypasta creator (however I still maintain my supportive, and mom-like personality in the real world, and in the Creepypasta creators world)
I speak 3 languages! That includes English, Spanish, and Japanese
I actually live in California, I normally put The Black Forest as a reference to my first creation The Sorceress
I share the same birthday with Benedict Cumberbatch, and Brian May (guitarist from Queen)
I was in Wrestling for two years and became captain my second year, however, I quit the sport after physical and mental issues
I study Psychology, Photography, and Drama in my high school
I've received a 5 in my state testing in the Language Arts department for Writing and Researching
I've been creating Creepypasta characters for 5 years now; it wasn't until 2 years ago I began to publish them
I have a really bad habit of publishing my creations and not finishing their bios until the next month (that also includes the other creations I've edit in the past)
I'm by far the most active user (ranked #2) with multiple characters published here in CFW (27 at the moment with 41 in total in the future!)
The oldest creation in this wiki made by me is Kitsune, I deleted The Sorceress however I've published her again
My newest creation Domino's real name is actually one of my friend's name (I never told him)
At one point, I had up to 20 wiki pages published by me (I'm now planning to publish up to 30 wiki pages)
Since I've deleted my old creations due to the lack of professionalism, I'm planning on publishing once more after I update them!
My main inspirations for Creepypasta creations are either: music, real-life serial killers, or shower thoughts
My least popular Creepypasta creations are The Sorceress (since I unpublished her until now) and The Mortician
So far, my creation Operator is the newest Featured Article, last time they gave a Featured Article was to Loolveus for Beatrix Skinner
There are plans on making Operator and Victim canon with my newest Creepypasta story, "Hidden Beneath The Moon's Light"
Originally, my creation Kitsune was the newest Featured Article, but it wasn't until admin Criticizer saw Operator, she switched it around (that was the first time in CFW history for two creations from the same person to have Featured Articles)
Users I Respect/Love
My Creepypasta Creations
The Sorceress - Needs Editing
Hoodlum - No Longer Working
Meurtrière - Needs Editing
Operator - Featured Article
Bones - Unfinished
Domino - Unfinished
Volatile - Unfinished
Mastermind - Unfinished
Covert - Unfinished
Kyoki - Unfinished
Eko - Unfinished
Scavenger - Unfinished
Widow - Unfinished
The Tattler - Unfinished
Fatale Feline - Unfinished
Nemesis - Unfinished
Orphan - Unfinished
Copy Cat - Unfinished
Eldoris - Unfinished
Madame Cheer (Coming Soon)
Melinda (Coming Soon)
Syringe (Coming Soon)
Ruby Cards (Coming Soon)
Yukimi (Coming Soon)
Mother (Coming Soon)
Morana (Coming Soon)
The Death Caller (Coming Soon)
Crimson (Coming Soon)
Rosary (Coming Soon)
Hallow Eve (Coming Soon)
Pesadilla (Coming Soon)
Hidden Beneath The Moon's Light (Coming Soon) - Operator, Victim & Dr. Moon
The Lustful Crime (Coming Soon) - Bachelor & Volatile
The Chains & The Woods (Coming Soon) - Operator, Victim, & The Prowlers
They Noticed Me! (Coming Soon) - Crush, Razor, & Copycat
My Creepypasta Collaborations [CLOSED]
Mr. Perfect - Editor
Noose Hannah - Backstory Editor
Dark Three - Helper of Names
Hodeskalle - Editor
The Doll Queen - Editor
Ink - Editor
Stitches - Editor
Blood Rush - Editor
Prey Hunter - Editor
Hazard - Editor
Demonia and Angelina - Editor
Ace - Editor
Crow - Creator/Editor - Needs Editing
Marie - Editor
Luna - Editor - Unfinished
The Night Demon - Editor
The Predator - Editor
The Empty One - Editor
The Heartless - Editor
Pain - Editor
My Favorite Creepypasta Stories/Characters
These are not ranked accordingly
Community content is available under
CC-BY-SA
unless otherwise noted.